Coatings for roofs and walls
We offer Andura wall and roof coatings.
Find out more:
The Andura brand was originally established in 1985. Today, Andura manufactures a wide range of products for the protection and decoration of building surfaces. Supplying the UK and throughout Europe with long life specialist applied coatings, Andura has an excellent track record in large commercial projects and home improvements.
Andura's Roofgard Coating has been Independently tested by the Paint Research Association (PRA). The results show that Roofgard is exceptionally durable and performs well with good colour stability for more than 10 years. Andura's Classic 21 wall coating holds the prestigious BBA approval. This was re-affirmed by BBA with a newly issued certificate in 2017.
Andura is a British Standards Registered Firm and manufactures products under the EN BS ISO 9001 Quality Management System.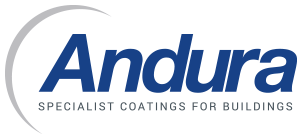 ---